Like many business owners and online marketers you have likely tried to evaluate your website and figure out why no one has filled out your form or called your number or even visited some of those fancy pages you setup with your web designer. Well you're in luck because there are several tools available today that give business owners marketing insights like never before. It's a great time to be an entrepreneur as there is an unprecedented amount of opportunity out there to advertise your business and most importantly, to fine-tune your marketing efforts by constantly analyzing customer engagement and interaction with your business.
Introducing Hotjar Heat Maps
Gone are the days where your website is some static brochure online that customers browse and then go on with their day. You can add a lot of interactivity for customers on your website and create impressive sales funnels that guide customers through your entire sales process from start to finish. Without some sort of tracking system in place, you will have absolutely no clue as to what customers are doing on your website, where they are going (or not going) and why they are not completing your goals such as filling out your estimate form or checking out your individual service pages.
You are likely tracking where your website visitors are coming from (search engines, online ads etc.) and you may have some very rudimentary stats on how many people look at more than one page or what your bounce rate is etc. but if you are just now hearing about heat maps and Hotjar then we are sorry to say but you have been left in the dust when it comes to improving your website.
Don't worry, there is a brighter future ahead and it's never too late.
Hotjar heat maps are a visual representation of the activity on your site. A quick integration with some copy and paste code and you're on your way to discovering exactly where customers are clicking and tapping on your website. These heatmaps can help you identify and understand your visitors' behavior when using your website so that you can make significant improvements to the flow and architecture and design of your website. Imagine how much better you could design pages or improve the overall flow of your online sales funnel when you know exactly where people are clicking and not clicking.
See an example heatmap below: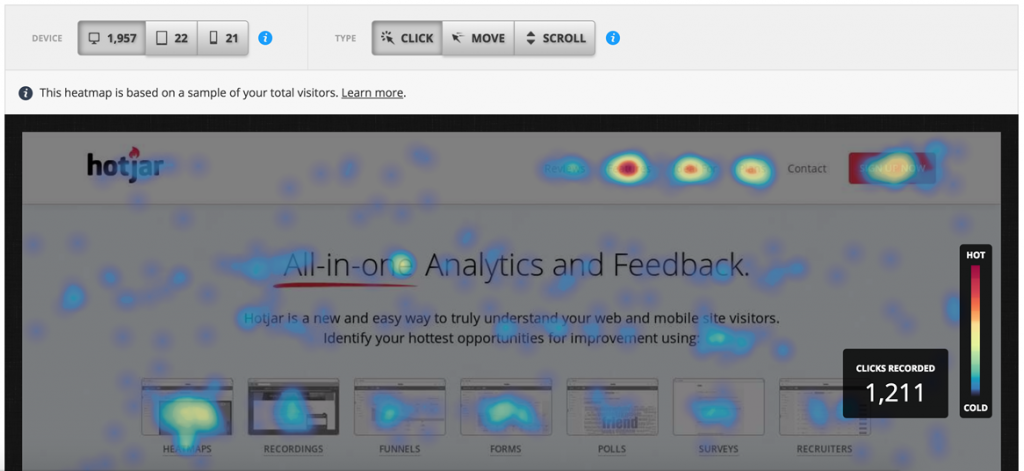 Hotjar even takes recorded samples of the mouse movement of all your website visitors and includes the graphical representation in your report to show you the areas where your visitors moved their mouse over. Hotjar implements a hot/cold system to show areas of repeated events among all visitors.
Similarly Hotjar also shows reports of how users are scrolling on the site and you may be surprised to see that not many users scroll very far or that more users scrolled down the page than you expected. You see it is hard to tell what people do and most business owners mistakenly make marketing decisions with their website design and layout and content based on their personal behaviour when they visit websites. The problem is that people are unique and that unique people are clumped into groups that share common behaviour and decision making. So if you have 10,000 people that visit your website then chances are that 10% will use a website like you would and 12% another way and 14% another way and so on.
Even Google reports that 1 in 5 searches they have never seen before and that sounds crazy because with millions of searches a second you would think that everything has been searched or is searched the same way. The problem with presumptions is they are not backed up by facts and statistics. In order to make appropriate and effective marketing changes you need insight. This is where tools like Hotjar come in very handy and can provide you with some much needed ammunition for your online marketing to hit those targets.
If you want to take your business to the next level and really improve your website and your online marketing then sign up and we can help you integrate the code and we can even help you truly understand the reports and make suggestions on how to improve your results.
We seek to create long-term relationships built on results.
We want to get to know your business (and you of course) so that we can help your business evolve and take advantage of new technologies, systems and strategies that will boost growth. We have assembled a team with the skills to take your website from an idea on a napkin to a customer-producing sales tool that can also help streamline your business operations with systems and tools that automate much of what you are already doing now!
Additionally, we have built several companies from the ground up so we know what you are going through at the various stages of your own business. We can apply our experience and knowledge about generating and managing new leads to ensure that your company not only starts growing significantly but also that you are able to manage the growth effectively without crashing and burning.
We are a full-service digital agency & print shop

Website design
Website maintenance
Backups & website security
Mobile website development
Responsive website development
Website updates
Hosting & file storage
SEO & Pay-Per-Click ads
Offline marketing campaigns
Printing & promotional items
Custom software development
Custom coding (PHP, MySQL etc.)
Graphic design & logo creation
Social media marketing