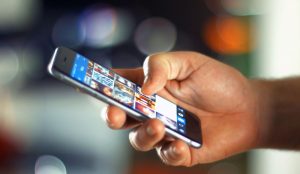 There is a lot of buzz going on in the marketing community as Instagram has announced the plan to rollout a new algorithm that will in some ways affect many business owners and digital promoters. Before we dive into how the new algorithm is different, it is important to understand how Instagram actually works. To put it simply, Instagram operates by the "delightful scale" where their main objective is to show delightful content to users who want to be delighted. Essentially this means that they want to showcase posts and images that are sure to inspire, intrigue, and generally put a smile on the viewer's face. The main goal here is to provide users with content that will keep them coming back for more which leads to increased visitors and views that can then translate into ad revenue when this traffic and visibility is sold to advertisers.
The new algorithm actually makes sense and will be good for the platform overall. So what is the new algorithm? Well basically when you post something on Instagram, that post will be shown to a small sample of your followers. Instagram will then analyze how your audience is interacting with your post including tracking things like the speed of interaction, number of shares, likes, comments and saves.
Of course the better performing posts will be shown to a larger audience after passing this initial test and also your future posts will start to go through the same process when shared to your audience. So if you have a new post out and it is performing better than the average then it is shown higher up on the home page and to a larger audience. Conversely, if the post performs below average on the sample then it will be further down the home page and shown less to your audience.
So How Do I Beat the Algorithm?
Now that you know how the algorithm works and once you know the metrics of how Instagram is "keeping score", then you can adjust your posts to position your posts to perform better than the average in the sample so that you will have your post at the top and shown to a wider audience once your post passes the initial test.
Here are the top ways to "hack" Instagram's new algorithm to maximize your marketing efforts and be seen by the largest audience possible
Post at times that your audience is likely to use the app.
Take some time to really think about your target audience and who is/has been following you to outline the best times to post. This is something you can easily refine with time as well based on how your posts are performing.
Maximize both your visual and your written content.
People engage more with posts that have a really nice visual and also very informative content. Spend some time making quality posts that are sure to lead to increased engagement which will push your post up in the ranks.
Continually test out new content so you can measure results and improve your posts.
This pretty much goes without saying but it is crucial to have a plan, then execute, and then circle back to evaluate before you rinse and repeat. Discover more about your post insights in the Instagram Insights page. Simply goto the posts section and tap Filters at the top of the page. Once there you can filter the last 6 months by engagement to see what your users have been engaging with the most. Pretty cool stuff!
Remember that the algorithm will change over time but Instagram won't.
Instagram's main focus is to keep users coming back. If you continue to put out great content that people will come back for then you are exactly what Instagram is looking for at all times and they will develop and improve their algorithm to better showcase great content-producers such as yourself.
What if I Need Help with Instagram Marketing?
If you are new to social marketing or you are struggling with your social media presence and marketing then remember you do not have to go it alone. We are here to help and we are only 10 digits away by phone, a couple key strokes away by email – even if you just message a blank email with the subject "help" we will be there to help you crush your marketing objectives! In all seriousness though, you may want to include more in your email to us as our super sophisticated spam filters may think you are an overseas princess trying to get us to help you claim your 41 million dollar inheritance all just by sending you a check to help with the legal fees… we've all received that spam email before!
Have a great day and happy marketing everyone
We seek to create long-term relationships built on results.
We want to get to know your business (and you of course) so that we can help your business evolve and take advantage of new technologies, systems and strategies that will boost growth. We have assembled a team with the skills to take your website from an idea on a napkin to a customer-producing sales tool that can also help streamline your business operations with systems and tools that automate much of what you are already doing now!
Additionally, we have built several companies from the ground up so we know what you are going through at the various stages of your own business. We can apply our experience and knowledge about generating and managing new leads to ensure that your company not only starts growing significantly but also that you are able to manage the growth effectively without crashing and burning.
We are a full-service digital agency & print shop

Website design
Website maintenance
Backups & website security
Mobile website development
Responsive website development
Website updates
Hosting & file storage
SEO & Pay-Per-Click ads
Offline marketing campaigns
Printing & promotional items
Custom software development
Custom coding (PHP, MySQL etc.)
Graphic design & logo creation
Social media marketing